Effect of carbon monoxide on Mycobacterium tuberculosispathogenesis
Medical Gas Research
2012
2:30
Received: 24 September 2012
Accepted: 4 December 2012
Published: 17 December 2012
Abstract
The intracellular pathogen Mycobacterium tuberculosis (Mtb) is exposed to multiple host antimicrobial pathways, including toxic gases such as superoxide, nitric oxide and carbon monoxide (CO). To survive, mycobacteria evolved mechanisms to resist the toxic environment, and in this review we focus on a relatively new field, namely, the role of macrophage heme oxygenase and its enzymatic product CO in Mtb pathogenesis. In particular, we focus on (i) the induction of heme oxygenase during Mtb infection and its relevance to Mtb pathogenesis, (ii) the ability of mycobacteria to catabolize CO, (iii) the transcriptional reprogramming of Mtb by exposure to CO, (iv) the general antimicrobial properties of CO and (v) new genetic evidence characterizing the ability of Mtb to resist CO toxicity. Developing a complete molecular and genetic understanding of the pathogenesis of Mtb is essential to its eventual eradication.
Keywords
Carbon monoxideHeme oxygenaseMicrobiologyImmunologyMycobacterium tuberculosisMicrobial pathogenesis
Introduction
The success of a pathogen during infection depends upon its abilities to respond to and overcome a battery of host defense mechanisms. In response to bacterial infection, host cells generate a variety of toxic compounds to mediate microbial killing such as excess hydrogen ion (H+), hydrogen peroxide (H2O2), hypochlorous acid (HOCl), nitric oxide (NO), and carbon monoxide (CO). To promote intracellular survival, some pathogens such as Mycobacterium tuberculosis (Mtb) evolved multiple pathways to evade these host defenses. For example, mycobacteria utilize superoxide dismutase [1] and catalase [2, 3] to convert the toxic reactive oxygen intermediates superoxide and H2O2 to water and oxygen, while they also employ multiple mechanisms to resist nitric oxide toxicity [4–8].
Understanding Mtb resistance mechanisms against host defenses is of paramount importance as it is an endemic and epidemic pathogen that latently infects approximately one-third of the world's population [
9
]. Upon Mtb infection, host immune pathways are activated, resulting in macrophage and T cell recruitment [
10
]. The long-term success of Mtb as an intracellular pathogen lies primarily in its ability to remain dormant and persist within host macrophages for extended periods of time. This is facilitated in part by the induction of genes that comprise the dormancy regulon by stimuli present in the Mtb microenvironment including low oxygen, NO, nutrient starvation, and CO (Figure
1
) [
11
–
14
]. The genes in the dormancy regulon, many which are of unknown function, likely contribute to TB persistence by facilitating its long-term survival [
15
].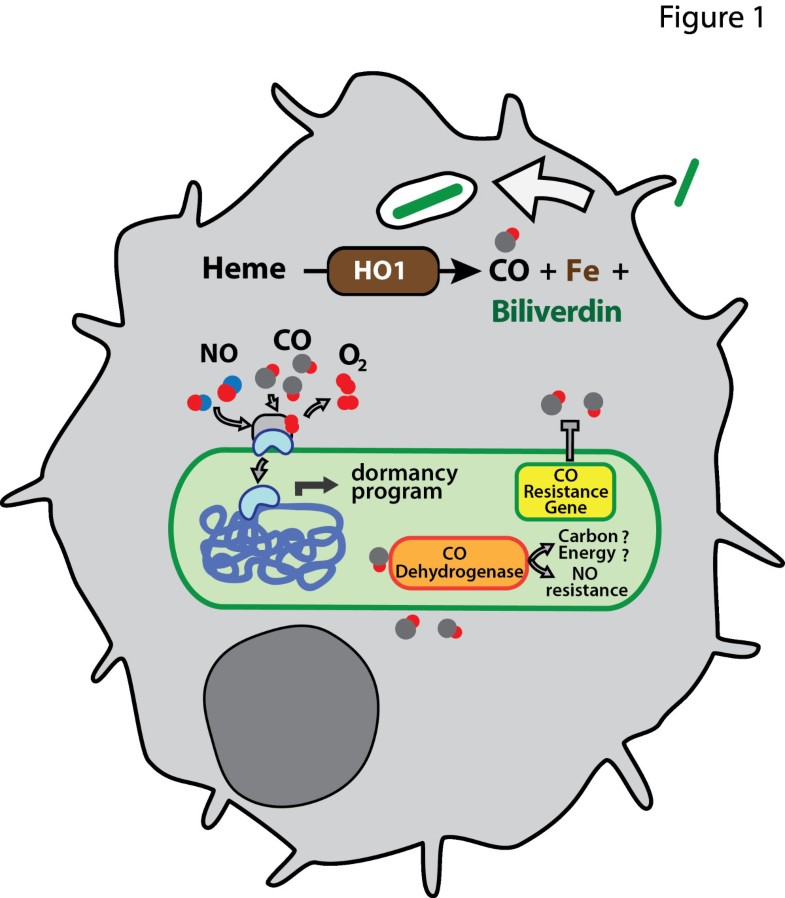 Recent studies have described the deleterious effects of CO on various microbes, while unveiling the potential bacterial targets of CO action. In Escherichia coli, Pseudomonas aeruginosa, and Staphylococcus aureus, exposure to CO inhibits key enzymes of the electron transport chain required for bacterial respiration, resulting in microbial death [16, 17]. In contrast to the aforementioned organisms, Mtb is able to withstand high concentrations of CO, suggesting a potential CO resistance pathway not previously described in microorganisms [11]. In this review, we describe the role of the reactive gas compound CO and its relevance during microbial infection, while highlighting the ability of Mtb to withstand CO toxicity.
Abbreviations
ATP:

Adenosine triphosphate
CO:

Carbon monoxide
CODH:

Carbon monoxide dehydrogenase
CORM:

Carbon monoxide releasing molecule
DNA:

Deoxyribonucleic acid
dNTP:

Deoxyribonucleotide
H2O2:

Hydrogen peroxide
HO:

Heme oxygenase
IFN-β:

Interferon beta
IRF3:

Interferon regulatory factor 3
Mtb:

Mycobacterium tuberculosis
NO:

Nitric oxide
TNF:

Tumor necrosis factor.
Declarations
Acknowledgements
Work by the authors was funded by the Disease Oriented Clinical Scholar's program at UT Southwestern and NIH R01 AI099439 (M.U.S.) and by NIH T32 training grant 5T32AI007520 (V.M.Z.).
Authors' Affiliations
(1)
Department of Medicine, Division of Infectious Diseases, University of Texas Southwestern Medical Center, Dallas, USA
(2)
Department of Microbiology, Division of Infectious Diseases, University of Texas Southwestern Medical Center, Dallas, USA
Copyright
© Zacharia and Shiloh; licensee BioMed Central Ltd. 2012
This article is published under license to BioMed Central Ltd. This is an Open Access article distributed under the terms of the Creative Commons Attribution License (http://creativecommons.org/licenses/by/2.0), which permits unrestricted use, distribution, and reproduction in any medium, provided the original work is properly cited.