Normobaric hyperoxia-based neuroprotective therapies in ischemic stroke
Medical Gas Research
2013
3:2
Received: 23 November 2012
Accepted: 7 January 2013
Published: 9 January 2013
Abstract
Stroke is a leading cause of death and disability due to disturbance of blood supply to the brain. As brain is highly sensitive to hypoxia, insufficient oxygen supply is a critical event contributing to ischemic brain injury. Normobaric hyperoxia (NBO) that aims to enhance oxygen delivery to hypoxic tissues has long been considered as a logical neuroprotective therapy for ischemic stroke. To date, many possible mechanisms have been reported to elucidate NBO's neuroprotection, such as improving tissue oxygenation, increasing cerebral blood flow, reducing oxidative stress and protecting the blood brain barrier. As ischemic stroke triggers a battery of damaging events, combining NBO with other agents or treatments that target multiple mechanisms of injury may achieve better outcome than individual treatment alone. More importantly, time loss is brain loss in acute cerebral ischemia. NBO can be a rapid therapy to attenuate or slow down the evolution of ischemic tissues towards necrosis and therefore "buy time" for reperfusion therapies. This article summarizes the current literatures on NBO as a simple, widely accessible, and potentially cost-effective therapeutic strategy for treatment of acute ischemic stroke.
Keywords
OxygenIschemiaOxidative stressBlood brain barrierReperfusionBlood flowNeuroprotection
Introduction
Stroke is a leading cause of death and disability. Acute ischemic stroke results in heterogeneous changes in cerebral blood flow (CBF) and brain metabolism in the affected region [1]. As brain is extremely sensitive to hypoxia, insufficient oxygen supply due to disturbance in the cerebral blood supply is a critical event in the pathophysiology of ischemic stroke. Therefore, oxygen therapy that aims at improving tissue oxygen supply has long been considered as a logical treatment for ischemic stroke [2]. Recent animal studies have shown that short duration of normobaric hyperoxia (NBO) treatment is highly neuroprotective if started early after stroke onset [3–5]. As time loss is brain loss in the setting of acute cerebral ischemia, NBO can be administered as an early treatment to attenuate or slow down the evolution of ischemic tissue towards necrosis, and thus "buy time" for combination therapies with other neuroprotectants to achieve better outcomes [6, 7]. In this review, we will summarize the current literatures on the neuroprotective studies of NBO alone and its combination with other therapies in acute ischemic stroke.
NBO-afforded neuroprotection in stroke
Combination treatment with NBO
The Stroke Therapy Academic Industry Roundtable (STAIR) has strongly recommended the use of multiple neuroprotective therapies for treating stroke, in which each agent that works on a different ischemic injury mechanism could be given either simultaneously or in rapid succession [49, 50]. As NBO is widely available and can be promptly initiated after stroke onset, NBO may be an ideal early stroke treatment to preserve the ischemic penumbra, and then followed by treatment with other neuroprotectants to eventually salvage the ischemic penumbral tissue.
NBO plus tPA thrombolysis
A major goal in the treatment of acute ischemic stroke is prompt arterial recanalization. Until now, thrombolysis with tissue-type plasminogen activator (tPA) within 3 or 4.5 hour after symptom onset is the only FDA-approved treatment for acute ischemic stroke. Delayed thrombolytic therapy dramatically increases the risk of intracranial hemorrhage (ICH) [51]. As a fact, the brief therapeutic window and the high incidence of ICH have profoundly constrained the clinical use of tPA in ischemic stroke patients. Therefore, combination strategies that address not only tPA-associated ICH and its narrow therapeutic window, but also limit ischemic damage [49], are urgently needed.
Although the mechanisms underlying tPA-induced ICH are not fully understood, it has been suggested that ICH occurs as a result of BBB disruption by enhancing the proteolytic activity, such as MMPs [52–56]. Several human studies have also demonstrated that stroke patients with higher pretreatment plasma level of MMP-9 or its substrate are more likely to undergo cerebral hemorrhagic complications after tPA [57, 58].
Since NBO can effectively limit ischemic neuronal death, as well as reduce BBB disruption in animal experiments [14, 34], it is logic to speculate that NBO could serve as a promising adjunctive therapy to reduce tPA-associated ICH and widen the thrombolysis window in stroke. The potential for combined NBO treatment with tPA thrombolysis was recognized several years ago [15, 59]. Henninger et al. showed that the combination of NBO with tPA did not increase hemorrhage volume at 10 hours or occurrence of confluent petechial hemorrhages at 24 hours in a rat embolic stroke model [60]. NBO also did not increase cellular markers of superoxide generation or brain levels of MMP-9 [61]. These data provides important initial evidence to support the combination therapy with NBO and tPA in ischemic stroke.
It was reported that combined NBO and tPA significantly reduced the mortality rate (from 70% to 11% in tPA-treated rats), brain edema, hemorrhage, and MMP-9 augmentation in a filament occlusion rat model with 5-hour ischemia followed by 19-hour reperfusion, as compared with tPA alone [6]. The authors also pointed out that they could not draw a solid conclusion on the causal relationship between mortality and cerebral hemorrhage, as they did not measure hemorrhage volume for those rats that died prematurely during reperfusion, most of which were tPA-treated normoxic rats. Nevertheless, their findings indicate that NBO can increase the safety of delayed tPA treatment. However, different results have also been reported, in which Fujiwara et al. showed that NBO plus tPA did not significantly alter hemorrhagic conversion, brain swelling, or mortality at 24 hours, as compared with tPA alone in an embolic MCAO model stroke [62]. The discrepancy might be derived from the difference in stability of animal models. Apparently, further investigation is needed to ascertain the safety and efficacy of delayed tPA treatment combined with NBO before application in human stroke patients.
NBO plus other therapies
Minocycline, a tetracycline antibiotic, possesses properties against reperfusion injury, including anti-inflammatory, anti-apoptotic, and BBB protection. Jin et al. reported that NBO therapy after ischemia onset plus minocycline intravenous injection after reperfusion onset provides greater reduction in infarct size and edema volume. NBO plus minocycline also effectively reduces brain injury due to its inhibition on MMP-2/9-mediated occludin degradation and the activation of caspases and apoptosis inducing factor [63].
Effects of combination treatment with NBO and edaravone, a potent scavenger of hydroxyl radicals (intravenously injected after ischemia), were evaluated for reducing acute brain injury in a 2-hour filament ischemic mouse model [64]. This study indicated that combination group showed smaller infarct volume, better neurological functions and less TUNEL-positive cells in the ischemic boundary zone both in cortex and subcortex at 22 hours after reperfusion than the two monotherapy groups, suggesting that combination therapy with NBO plus edaravone prevented the neuronal damage after focal cerebral ischemia and reperfusion in mice. Combination therapy with NBO plus cilostazol, a selective inhibitor of phosphodiesterase-3, was also proved to protect the mice subjected to focal cerebral ischemia by improving CBF after reperfusion, which was partially attributed to endothelial nitric-oxide synthase activity [65].
NBO has also been suggested to combine with ultrasound and tPA in acute ischemic stroke [66]. Enhanced dissolved oxygen secondary to NBO treatment increases gas nuclei formation around and inside of the clot. Under ultrasound field, these small gas nuclei form nano bubbles that fuel inertial cavitation as substrates, and therefore increase the clot fragmentation and lysis.
Since multiple mechanisms contribute to ischemic injury, it is logic and appropriate to consider the "cocktail" approach to intervene multiple mechanisms. Moreover, combined therapies are also helpful for reducing the dosage and minimizing the toxicity of individual agent.
Conclusions
At present, stroke patients receive variable amounts of oxygen in the ambulance and current guidelines do not support the routine use of in-hospital oxygen [
67
,
68
]. In light of the positive preclinical and clinical reports, further studies are warranted to explore the efficacy of NBO therapy alone or in combination with other neuroprotectants for treatment of acute ischemic stroke, and to determine the optimum timing and duration of the therapy. NBO, a simple, widely accessible and potentially cost-effective therapeutic strategy could significantly improve the clinical outcome of stroke patients if used appropriately (Figure
1
).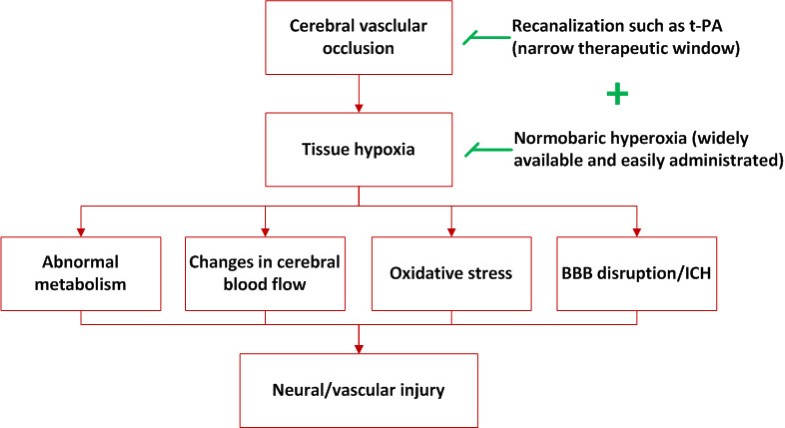 Abbreviations
BBB:

Blood brain barrier
CBF:

Cerebral blood flow
fCBV:

Functional cerebral blood volume
ICH:

Intracranial hemorrhage
MCAO:

Middle cerebral artery occlusion
MMPs:

Matrix metalloproteinases
MRI:

Magnetic Resonance Imaging
NBO:

Normobaric hyperoxia
NIHSS:

National Institute of Health stroke scale
nNOS:

Neuronal nitric oxide synthase
NOx−:

Nitrite plus nitrate
pO2:

Partial oxygen
ROS:

Reactive nitrogen species
RNS:

Reactive nitrogen species
STAIR:

Stroke Therapy Academic Industry Roundtable
TJPs:

Tight junction proteins
tPA:

Tissue-type plasminogen activator.
Declarations
Acknowledgements
The work was partially supported by grants from National Natural Science Foundation of China (81171242 and 81200928), and National Institutes of Health, USA (P30GM103400, and R01AG031725).
Authors' Affiliations
(1)
Cerebrovascular Diseases Research Institute, Xuanwu Hospital of Capital Medical University, Beijing, China
(2)
Central Laboratory of Shenzhen 2nd People's Hospital, the 1st Affiliated Hospital of Shenzhen University, Shenzhen, Guangdong, China
(3)
Department of Pharmaceutical Sciences, University of New Mexico Health Sciences Center, Albuquerque, USA
Copyright
© Qi et al.; licensee BioMed Central Ltd. 2013
This article is published under license to BioMed Central Ltd. This is an Open Access article distributed under the terms of the Creative Commons Attribution License (http://creativecommons.org/licenses/by/2.0), which permits unrestricted use, distribution, and reproduction in any medium, provided the original work is properly cited.