A systematic review of neuroprotective strategies after cardiac arrest: from bench to bedside (part II-comprehensive protection)
Medical Gas Research
2014
4:10
Received: 27 January 2014
Accepted: 20 February 2014
Published: 20 May 2014
Abstract
Neurocognitive deficits remain a significant source of morbidity in survivors of cardiac arrest. We conducted a literature review of treatment protocols designed to evaluate neurologic outcome and survival following global cerebral ischemia associated with cardiac arrest. The search was limited to investigational therapies that were implemented either during cardiopulmonary resuscitation or after return of spontaneous circulation in studies that included assessment of impact on neurologic outcome. Given that complex pathophysiology underlies global brain hypoxic ischemia following cardiac arrest, neuroprotective strategies targeting multiple stages of neuropathologic cascades should promise to improve survival and neurologic outcomes in cardiac arrest victims. In Part II of this review, we discuss several approaches that can provide comprehensive protection against global brain injury associated with cardiac arrest, by modulating multiple targets of neuropathologic cascades. Pharmaceutical approaches include adenosine and growth factors/hormones including brain-derived neurotrophic factor, insulin-like growth factor-1 and glycine-proline-glutamate, granulocyte colony stimulating factor and estrogen. Preclinical studies of these showed some benefit but were inconclusive in models of global brain injury involving systemic ischemia. Several medical gases that can mediate neuroprotection have been evaluated in experimental settings. These include hydrogen sulfide, hyperbaric oxygen and molecular hydrogen. Hyperbaric oxygen and molecular hydrogen showed promising results; however, further investigation is required prior to clinical application of these agents in cardiac arrest patients.
Keywords
Cardiac arrestGlobal brain injuryComprehensive neuroprotectionModelPharmaceuticalHyperbaric oxygenHydrogen sulfideHydrogen gas
Introduction
According to the 2013 update of Heart Disease and Stroke Statistics from the American Heart Association (AHA), out-of-hospital cardiac arrest (CA) has an overall incidence of 359,400 yearly and a low 9.5% survival rate [1]. Additionally, more than 200,000 adults have in-hospital CA each year and only 23.9% of these patients survive to hospital discharge [1]. For those patients who do survive to hospital discharge, neurologic injury remains a source of significant morbidity. Nearly 70% of patients still have moderate to severe cognitive deficits at three months after CA [2]. The persistence of unfavorable neurologic outcomes, despite advances in cardiopulmonary resuscitation (CPR) prompted AHA to emphasize brain injury in relation to cardiac arrest by proposing "cardiopulmonary-cerebral resuscitation" in its 2000 Guidelines for Cardiopulmonary Resuscitation and Emergency Cardiovascular Care [3]. Therapeutic strategies targeting brain injury after CA are thus an important area for basic and clinical research. Over decades, however, a host of putative neuroprotective strategies failed to demonstrate clinical benefit except for mild therapeutic hypothermia [4]. New neuroprotective approaches are warranted in the setting of global brain injury associated with CA.
The complex series of pathophysiological changes contributing to global brain hypoxic ischemia following CA have been summarized in Part I of this review. Whole body ischemia/reperfusion injury and/or systemic inflammatory responses increase the pathologic complexity of brain injury following CA, which in turn increases the difficulty and complexity in the search for an effective neuroprotective agent. In this context, a specific therapy targeting multiple stages of neuropathology cascades should provide promise to improve survival and neurologic outcomes in CA victims. Indeed, the successful translation of therapeutic hypothermia (TH) to CA patients is attributed to the multiple neuroprotective effects of TH against global brain ischemia [5].
Literature search method
A literature search was conducted of articles indexed in Medline and published between 1980 and October 2013 using combination of keywords including "brain injury", "cardiac arrest", "neuroprotection", "cerebral protection", "cardiopulmonary resuscitation", "global ischemia", "global cerebral ischemia", and "global brain ischemia" (Table
1
). Bibliographies of relevant articles were cross-referenced for pertinent articles. Articles were selected for review if postulated mechanisms of neuroprotection and some measure of neurologic outcomes were included. Only neuroprotective strategies tested in animal models relevant to global brain ischemia associated with CA were reviewed. Case reports, pediatric studies and articles not written in English were excluded. Studies of therapies administered before CA were not included as our goal was to investigate potential therapies to improve neurologic outcome that can be employed in the clinical setting (during or after CPR). Similarly, the many studies related to neuroprotection from anesthetic agents were not included, as administration of anesthetic agents during or immediately after CPR may be impractical or associated with undesirable hemodynamic effects. Due to the pathophysiologic differences between focal and global cerebral ischemia, the extensive literature regarding neuroprotective strategies in focal cerebral ischemia is acknowledged but not included in this review. In this part, a total of 17 preclinical studies were reviewed. We focus on several strategies that demonstrate comprehensive neuroprotective mechanisms evaluated in the setting of whole body and global brain ischemia associated with CA. Due to the limited numbers of publications in this area, we included pre-clinical studies using animal models of global brain injury involving bilateral carotid occlusion along with systemic hypotension.
Table 1
Search terms used to perform literature search
Database

Search terms

PubMed

Brain injury

Cardiac arrest

Neuroprotection

Neuroprotection

Cerebral protection

Cardiopulmonary resuscitation

Global ischemia

Gglobal cerebral ischemia

Global brain ischemia

These terms were searched in combinations as subject headings and keywords simultaneously.

Articles were limited to those printed or translated into English
Review
In addition to global brain ischemia and reperfusion, CA and resuscitation are associated with whole body ischemia/reperfusion injury and/or systemic inflammatory responses. These processes increase the pathological complexity of brain injury following CA. Therapeutic interventions targeting multiple stages of neuropathologic cascades that have been investigated can be separated into PHARMACEUTICAL APPROACHES and GAS-MEDIATOR APPROACHES (Table
2
).
Table 2
Summary of comprehensive neuroprotective strategies for global cerebral ischemia associated with cardiac arrest
Therapy

Proposed mechanism

Study subject

Blind

Placebo control

Random assignment

Delivery route

Effect:

Outcomes evaluated

Positive

Negative

Neutral

Pharmaceutical approaches

Adenosine [8]

Rats

Not mentioned

Yes

Yes

Intravenous

Positive

Survival, regional blood flow, brain edema, metabolite assay, neurohistopathology, temporalis muscle temperature

BDNF [14]

Up regulate Bcl-2, suppress TNF-alpha, increase IL-10, reduce excitotoxicity, promote neural regeneration and axonal sprouting/synaptogenesis [11]

Rats

Not mentioned

Yes

Not mentioned

Intracerebro-ventricular

Neutral

Survival, neurologic function, neurohistopathology

Anti-apoptosis, modulation of BBB permeability and neuronal excitability [17]

Rats

Not mentioned

Yes

Yes

Intravenous [19]

Positive when combined with TH [19]

Neurologic function [19]

HIF-1 alpha activation [18]

Intracerebro-ventricular [21]

Short-term: Positive; Long-term: Neutral [21]

Anti-apoptosis, anti-inflammation and enhance neurogenesis [23]

Rats

Not mentioned

Yes

Yes [25]

Subcutaneous [25]

Positive [25]

Not mentioned [26]

Intracerebro-ventricular [26]

Long-term: Negative [26]

p-STAT3, p-AKT1/2/3 and p-ERK1/2 [25]

Promote neuronal survival and neurogenesis [29]

Mice

Yes

Yes

Positive

Increase expression of SK2 [32]

Yes [32]

Small-conductance calcium-activated potassium (SK2 and SK3) channel transcripts, electrophysiology [32]

Gas-mediator approaches

Increase level of antioxidant glutathione and/or scavenging oxygen species, anti apoptosis and anti-inflammation [37–39]

Yes

Not mentioned

Intravenous

Positive when delivered at or prior to CPR initiation [41–43]

Pigs [44]

Yes [43]

Neutral when delivered 10 min after CPR [41]

Myocardial function, serum nitrite/nitrate levels and hydrogen peroxide level, cardiac mitochondrial swelling [41]

Enhance NMDA receptors [38]

Negative [44]

Diffusion weighted imaging and MMP-9 activity [42]

Cardiac output, heart rate and pulmonary arterial pressure [44]

Attenuation of oxidative and inflammatory injury, inhibition of apoptosis, enhance neurogenesis [47, 48]

Dogs [52]

Not mentioned

Yes

Yes [52]

Inhaled

Positive

Rats [53]

Not mentioned [53]

Oxygen extraction ratio and cerebral oxygen delivery/utilization [52]

Expression of Nogo-A/B, Nogo receptors and RhoA expressions [53]

Rats [57]

Not mentioned

Yes

Yes

Inhaled [57]

Positive

Rabbit [58]

Intraperitoneal [58]

Myocardial function, cardiomyocyte degeneration, lung edema and systemic inflammatory response [57]

Plasma 8-OHDG and MDA level [58]
Pharmaceutical approaches
Adenosine
Adenosine was proposed in the late 1980's to be an endogenous neuroprotective molecule with multiple functions [6]. Effects of adenosine and its receptor agonists include reducing the release of excitotoxic neurotransmitters, vasorelaxation, anti-inflammatory effects, reduction of metabolism, scavenging free radicals and moderate reduction of brain temperature [6, 7]. Only one pre-clinical study evaluated its treatment effects in the setting of global brain injury associated with CA [8]. In a rat model of CA and CPR, post-ischemic administration of adenosine (7.2 mg/kg) was associated with a transient increase in brain total adenylates, hypothermia, increased post-ischemia brain blood flow and reduced brain edema and delayed CA1 neuronal loss in the hippocampus [8].
In the brain, adenosine acts as a neurotransmitter through activation of four specific G-protein-coupled adenosine (A) receptors: A1, A2A, A2B and A3 receptors [9]. The A1 receptor mediates neuroprotection, mostly by blockade of Ca2+ influx, which results in inhibition of glutamate release and reduction of glutamate excitatory effects at a postsynaptic level [10]. Unfortunately, selective activation of A1 receptors as a therapeutic approach for brain injury was hampered by major cardiovascular side effects such as bradycardia and hypotension [6, 9]. Given that selective activation of A2A and A3 receptors mediated glutamate release and/or microglia activation and cell death, respectively, development of selective antagonists targeting A2A and A3 may offer a possible treatment for brain disorders via anti-excitoxicity, anti inflammation and anti-apoptosis mechanisms [10, 11]. Therapeutic applications of discrete adenosine ligands need to be further explored in the setting of global brain ischemia following CA.
Growth factors/hormones
Under focal ischemic conditions in the brain, administration of several types of exogenous growth factor/hormones has been shown to be neuroprotective. Limited animal studies evaluated their effects in global brain ischemia secondary to CA. However, the neuroprotective effects were not as robust as that found in cerebral ischemia that does not concurrently involve complete systemic circulatory stasis. Furthermore, a short half-life and a low rate of transport through the blood brain barrier (BBB) could challenge clinical applications of growth factor/hormones for brain protection.
Gas-mediator approaches
Gas-mediators exert whole brain protection through comprehensive and complementary mechanisms (Figure
1
). Favorable biomembrane permeability renders them attractive alternatives for treatment of global ischemia following CA.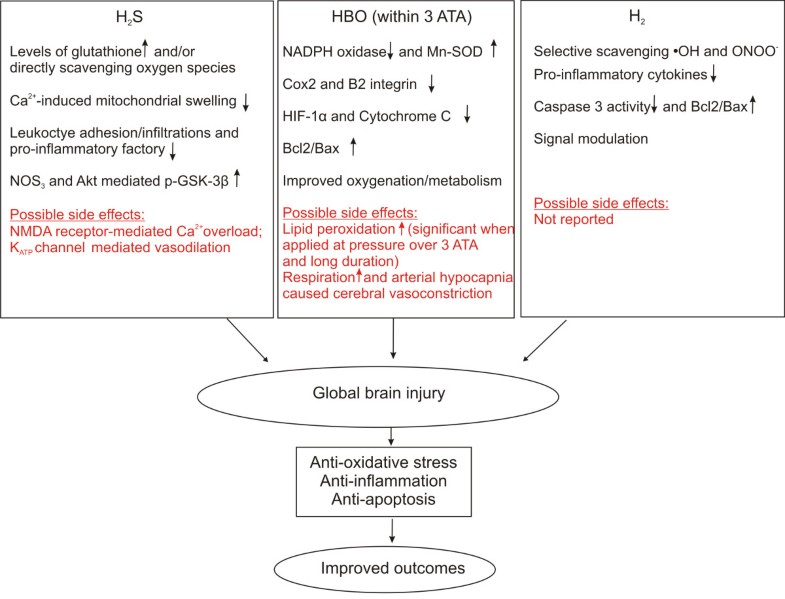 Conclusions
Comprehensive neuroprotective strategies benefit global brain ischemia associated with cardiac arrest by targeting oxidative stress, cell apoptosis and inflammatory responses. Based on limited preclinical findings, gas-mediator strategies, particularly, HBO (within 3 ATA) and molecular H2, have shown promise for improving survival and neurologic outcomes when implemented either during or immediately after CPR. Such comprehensive brain protective therapies may provide advantages over selective treatment strategies that have been developed for global brain ischemia over the past few decades. To date, no clinical studies have been conducted to test these approaches in patients with global brain ischemia. Translational research is needed to further elucidate fundamental neuroprotective mechanisms and effective treatment protocols prior to clinical applications in the future.
Abbreviations
AHA:

American Heart Association
BBB:

Blood brain barrier
Bcl-2:

B-cell lymphoma-2
BDNF:

Brain-derived neurotrophic factor
CA:

Cardiac arrest
CPR:

Cardiopulmonary resuscitation
ER:

Estrogen receptor
G-CSF:

Granulocyte colony stimulating factor
GPE:

Glycine-proline-glutamate
GPER:

G protein-coupled estrogen receptor
GPR:

G-protein-coupled receptor
H2:

Molecular hydrogen
H2S:

Hydrogen sulfide
HBO:

Hyperbaric oxygen
HIF:

Hypoxia-inducible factor
ICV:

Intracerebroventricular
IGF-1:

Insulin-like growth factor-1
IL:

Interleukin
IV:

Intravenous
KATP:

ATP-sensitive potassium
Na2S:

Sodium sulfide
NaHS:

Sodium hydrogen sulfide
NMDA:

N-methyl-D-aspartate
NR2B:

NMDA receptor 2B
ROSC:

Restoration of spontaneous circulation
TH:

Therapeutic hypothermia
TNF:

Tumor necrosis factor.
Authors' Affiliations
(1)
Department of Anesthesiology, Loma Linda University School of Medicine, Loma Linda, USA
(2)
Department of Basic Sciences, Division of Physiology and Anesthesiology, Loma Linda University School of Medicine, Loma Linda, USA
(3)
Department of Cardiology, Loma Linda University School of Medicine, Loma Linda, USA
(4)
Department of Neurosurgery, Loma Linda University School of Medicine, Loma Linda, USA
Copyright
© Huang et al.; licensee BioMed Central Ltd. 2014
This article is published under license to BioMed Central Ltd. This is an Open Access article distributed under the terms of the Creative Commons Attribution License (http://creativecommons.org/licenses/by/2.0), which permits unrestricted use, distribution, and reproduction in any medium, provided the original work is properly credited. The Creative Commons Public Domain Dedication waiver (http://creativecommons.org/publicdomain/zero/1.0/) applies to the data made available in this article, unless otherwise stated.