A review of experimental studies of hydrogen as a new therapeutic agent in emergency and critical care medicine
Medical Gas Research
2014
4:17
Received: 19 February 2014
Accepted: 28 October 2014
Published: 8 November 2014
Abstract
Hydrogen is the most abundant chemical element in the Universe, but is seldom regarded as a therapeutic agent. Recent evidence has shown that hydrogen is a potent antioxidative, antiapoptotic and anti-inflammatory agent and so may have potential medical applications in cells, tissues and organs. There are several methods to administer hydrogen, such as inhalation of hydrogen gas, aerosol inhalation of a hydrogen-rich solution, drinking hydrogen dissolved in water, injecting hydrogen-rich saline (HRS) and taking a hydrogen bath. Drinking hydrogen solution (saline/pure water/other solutions saturated with hydrogen) may be more practical in daily life and more suitable for daily consumption. This review summarizes the findings of recent studies on the use of hydrogen in emergency and critical care medicine using different disease models.
Keywords
HydrogenReactive oxygen speciesAntioxidantEmergencyCritical care medicine
Introduction
Hydrogen is the lightest element in the Periodic Table and the most abundant chemical substance in the Universe. Most hydrogen is employed near its production site, with the two largest uses being fossil fuel processing and ammonia production, mostly for the fertilizer market. Hydrogen is seldom regarded as an important agent in medical use, especially as a therapeutic gas. However, in July 2007 researchers from the Japan Medical University Institute of Geriatrics reported that inhaled hydrogen gas has antioxidant and antiapoptotic properties that protect the brain against ischemia–reperfusion (I/R) injury and stroke by selectively reducing hydroxyl radicals (·OH) and ONOO
−
in cell-free systems [
1
]. This study aroused interest worldwide and scientists have explored the therapeutic value of hydrogen in many disease models. Accumulating evidence suggests that hydrogen can protect various cells, tissues and organs against oxidative injury [
2
].This review focuses on the findings of recent studies of the effects of hydrogen in different disease models in emergency and critical care medicine, as shown in Figure
1
. The possible mechanisms involved in its protective effects are summarized.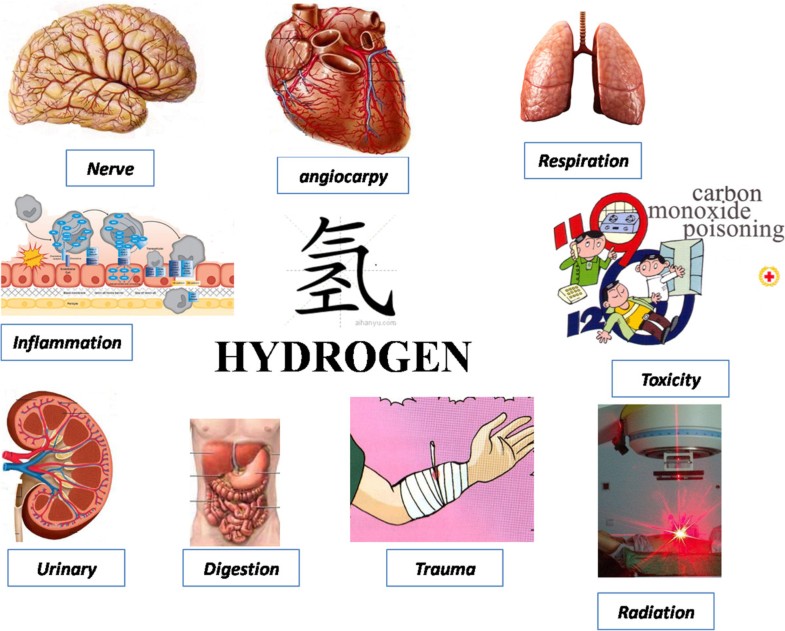 Conclusions
Hydrogen is a new potential therapeutic agent for the treatment of various diseases in emergency and critical care medicine. Although further investigations are required, with deepening of the basic theory and research into clinical applications, hydrogen may meet medical needs that at present incur considerable health burdens.
Declarations
Acknowledgments
This work was supported by the Natural Science Foundation of Shanghai (No. 14ZR1449500), the National Nature Science Foundation of China (No. 81401855).
Authors' Affiliations
(1)
Department of Emergency, Shanghai Provincial Crops Hospital, Chinese People's Armed Police Forces, Shanghai, PR China
(2)
Department of Quality Management, General Hospital, Chinese Armed Police Force, Beijing, PR China
(3)
Department of Medical Abministration, General Hospital, Chinese Armed Police Force, Beijing, PR China
(4)
Department of Diving Medicine, Faculty of Naval Medicine, Second Military Medical University, Shanghai, PR China
Copyright
© Shen et al.; licensee BioMed Central Ltd. 2014
This article is published under license to BioMed Central Ltd. This is an Open Access article distributed under the terms of the Creative Commons Attribution License (http://creativecommons.org/licenses/by/4.0), which permits unrestricted use, distribution, and reproduction in any medium, provided the original work is properly credited. The Creative Commons Public Domain Dedication waiver (http://creativecommons.org/publicdomain/zero/1.0/) applies to the data made available in this article, unless otherwise stated.