XENON in medical area: emphasis on neuroprotection in hypoxia and anesthesia
Medical Gas Research
2013
3:4
Received: 7 November 2012
Accepted: 25 January 2013
Published: 1 February 2013
Abstract
Xenon is a medical gas capable of establishing neuroprotection, inducing anesthesia as well as serving in modern laser technology and nuclear medicine as a contrast agent. In spite of its high cost, its lack of side effects, safe cardiovascular and organoprotective profile and effective neuroprotective role after hypoxic-ischemic injury (HI) favor its applications in clinics. Xenon performs its anesthetic and neuroprotective functions through binding to glycine site of glutamatergic N-methyl-D-aspartate (NMDA) receptor competitively and blocking it. This blockage inhibits the overstimulation of NMDA receptors, thus preventing their following downstream calcium accumulating cascades. Xenon is also used in combination therapies together with hypothermia or sevoflurane. The neuroprotective effects of xenon and hypothermia cooperate synergistically whether they are applied synchronously or asynchronously. Distinguishing properties of Xenon promise for innovations in medical gas field once further studies are fulfilled and Xenon's high cost is overcome.
Keywords
XenonHypoxiaIschemiaNeuroprotectionAnesthesiaHypothermiaNMDA
Introduction
Medical gases have a wide scope of applications in medical area. In the field of medicine, medical gases are used for many practices such as anesthesiology, hyperbaric oxygen therapy, neuroprotection and hypothermia [
1
]. For instance, hydrogen, the first element in periodic table, is a medical gas that is synthesized in fermentation of non-digestible carbohydrates in human cells [
1
–
3
], has a neuroprotective role following middle cerebral artery occlusion (MCAO) [
4
], neonatal HI [
5
,
6
] and newborn pig asphyxia models [
1
,
7
]. Helium which has the second highest prevalence in the universe [
1
] has therapeutic effects on arrthymia [
8
] and inflammation [
9
,
10
], and has myocardioprotective role [
1
,
11
]. Argon, another noble gas has been used as anesthetic and neuroprotective agent [
12
]. Xenon which is a medical trace gas in Earth's atmosphere [
13
] is proven to be effective in the fields of anesthesia and neuroprotection [
12
] (Figure
1
).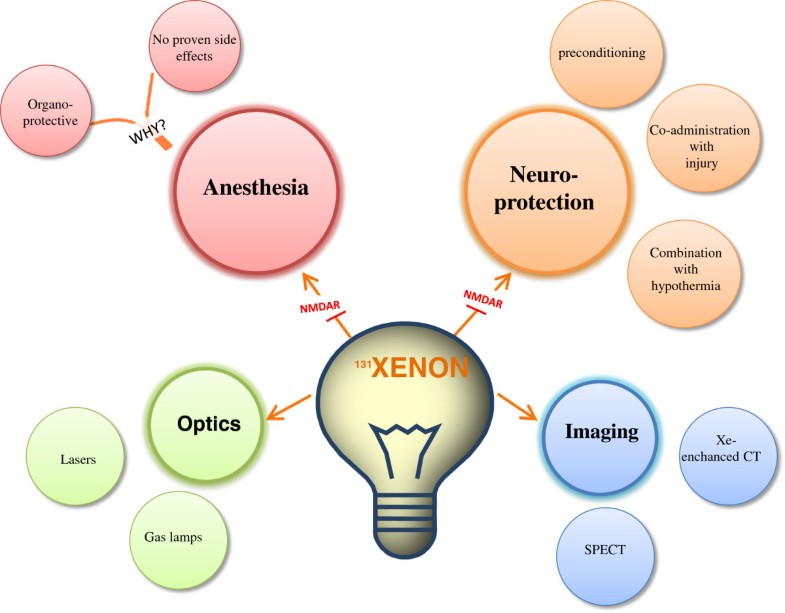 In vitro and in vivo studies prove that Xenon has therapeutic effects on various neurodegenerative outcomes. Due to these promising results, in this paper we aimed to review the beneficial applications of Xenon in clinical aspects mainly for neuroprotection as well as anesthesia.
Conclusion and further studies
Xenon has a bright future in medicine due to its noticeable advantages over other anesthetic agents. Despite of its highly costs, its neuro and myocardio protective profile, non-toxic chemical properties, nature friendly feature and efficacy in hypoxia-ischemia treatment combined with hypothermia makes it an ideal candidate for innovations in medical gas field. Promising findings obtained from in vivo-vitro studies of xenon denote that xenon will take its part in neuroprotective treatments for brain trauma, resuscitation and ischemic insults. However, further research and large-scale investigations are necessary for utilizing Xenon's therapeutic potential maximally. The highly cost of Xenon should also be overcome for achieving this goal.
Abbreviations
HI:

Hypoxic-ischemic injury
MCAO:

Middle Cerebral Artery Occlusion
FDA:

Food and Drug Administration
CA:

Cardiac Arrest
NMDA:

N-methyl-D-aspartate
OGD:

Oxygen glucose deprivation
NO:

Nitric Oxide
O2:

Superoxide
ONOO:

Peroxynitrite
AMPA:

α -amino-3-hydroxy-5-methyl-4-isoxazolole propionate
CT:

Computed Tomography
SPECT:

Single-photon emission computed tomography.
Authors' Affiliations
(1)
Koc University School of Medicine, Rumelifeneri Yolu, Sariyer-Istanbul, Turkey
(2)
Université Lorraine Faculté de Médecine, Vandoeuvre-lés-Nancy, France
(3)
Departments of Neurosurgery and Physiology, Loma Linda University, Loma Linda, USA
Copyright
© Esencan et al.; licensee BioMed Central Ltd. 2013
This article is published under license to BioMed Central Ltd. This is an Open Access article distributed under the terms of the Creative Commons Attribution License (http://creativecommons.org/licenses/by/2.0), which permits unrestricted use, distribution, and reproduction in any medium, provided the original work is properly cited.