The development of hyperbaric oxygen therapy for skin rejuvenation and treatment of photoaging
Medical Gas Research
2014
4:7
Received: 2 January 2014
Accepted: 20 February 2014
Published: 1 April 2014
Abstract
Hyperbaric oxygen therapy (HBOT), a therapy that have patients breath in pure oxygen in a pressurized chamber, has been long used as a treatment for conditions such as decompression sickness and carbon monoxide poisoning. Oxygen recently has been found to be an important component in skin rejuvenation, treatment of photoaging skin, and improvement in skin complexions. The interest in the use of HBOT for this purpose is continually growing and becoming more widespread. In addition to aging and genetic makeup, chronic UV radiation due to everyday exposure, especially UV-B, can greatly increase the rate of wrinkle formation through increasing skin angiogenesis and degradation of extracellular matrix molecules. The use of HBOT and hyperoxia conditions has been found to attenuate the formation of wrinkles from UV irradiation. It accomplishes the task by possibly inhibiting various processes and pathways involved such as the HIF1-α, VEGF, neutrophil infiltrations, and MMP-2 & MMP-9, which are directly involved with promoting skin angiogenesis in its active state. There are currently medical aesthetic clinics that are using oxygen therapy under high pressure applied directly to skin to reduce visible wrinkles but this procedure is not widespread yet due to more research that needs to be done on this topic. However, this treatment for wrinkles is definitely growing due to recent studies done showing the effectiveness of oxygen therapy on wrinkles. This review article will explore and summarize researches done on possible mechanisms dealing with the use of oxygen therapy for reduction of UVB-caused wrinkles, its side effects, and its possible future improvement and use in medicine.
Keywords
Hyperbaric oxygen therapyWrinklesMechanismsPhotoagingAngiogenesisUVB
Oxygen, at standard temperature and pressure, is a colorless, odorless, tasteless gas. It can exist in its monatomic state, but its preferred state is diatomic, O2. It also exists in a triatomic form, or more commonly known as ozone, and is found in the upper limits of the atmosphere [1, 2]. Since its discovery, oxygen has been used in treating medical conditions. The first recorded use of hyperbaric air therapy was in 1662 by Nathaniel Henshaw to treat chronic conditions, but it wasn't until the 1920s when Hyperbaric Oxygen Therapy (HBOT) really received attention and is widely noticed due to previous reports of oxygen toxicity [1]. The first HBOT chamber made in the United States was in 1861 in New York but the most well known chamber was built in 1921 in Kansas [1]. But due to more reports of concentrated oxygen toxicity, HBO therapy was not fully approved and put into practice until the 1937 by Behnke and Shaw for decompression sickness [2]. After the recorded success of HBOT, its use as treatments for numerous medical conditions grew and researches on this subject widen as the treatment has shown itself to be promising. At present, HBOT has grown and became more than just a treatment for decompression sickness. Starting from the late 1950s until now, HBO is used to treat gangrene, stroke, post cardiac arrest patients, and carbon monoxide poisoning [1–3].
Uses of oxygen for rejuvenation
Joseph Priestley, one of the first discoverers of oxygen, once said, "Who can tell but that, in time, this pure air may become a fashionable article in luxury." It seems that as the world is developing and Joseph Priestley's prediction about air is becoming a reality [4]. As the advancement of industrialization, the supply of fresh air is steadily decreasing, making good quality of air more and more of a luxury. Oxygen bar has become available in some big cities such as Los Angeles and Tokyo to provide people with a supply of pure oxygen for a certain fee. These places sell oxygen for recreational uses and different aromas are available for customers to choose from. There are many health benefits claims made by those supporters of oxygen bars. They claimed that the usage could enhance health by strengthening the immune system, reduce stress, increase energy, and reduce headaches and sinus problems. However, specific researches on these oxygen bars claimed benefits have not been done.
Due to the reigning desire in today's society to maintain youthful appearance, development of minimally invasive dermatological procedures is progressing to rejuvenate aging face. Quite a few of these minimally invasive procedures have been effectively developed such as chemical peels, intradermal fillers, and botulinum toxins, but one not yet fully understood is HBOT [5, 6]. HBOT as a therapy for aesthetic means is a relatively new use so there have not been a great number of researches done specifically on usage of oxygen therapy on reduction of wrinkles. However, from the few that has been done, positive outcomes were achieved and the use of oxygen therapy for treatment of wrinkles seems an attractive option [7, 8]. Receiving regular treatments of HBOT is thought to increase skin elasticity and stimulate collagen production, leading to reduction of wrinkles and fine lines and improvement in skin texture [9]. Many dermatology clinics and even spas have utilized machines that deliver concentrated oxygen to the patient or client to treat age-related skin problems. Oxygen is used in skin care because it is thought that delivery of natural oxygen increases cell metabolism. The use of oxygen therapy as a process of skin rejuvenation and reduction of loss of elasticity leading to formation of lines and wrinkles are becoming increasingly widespread in skin care clinics because of increasing successful results of their usage due to developing technologies. However, scientific evidences for those claims are waiting to be provided.
Causes of wrinkle formation
Health of skin is related to whole body health because the skin not only acts as a physical barrier against infections from foreign materials, but also controls the immune system, and produces hormones and neurotransmitters [10]. Wrinkles and aesthetic skin problems, like blemishes and acne scars, are caused by many factors such as aging, exposure to the environment, especially an overexposure to the sun, smoking, gender, and poor nutrition. Wrinkles caused through aging are an intrinsic factor-caused aging, or genetically programmed aging, that happens over time. This genetically programmed aging mainly causes a decrease production of fibroblast, collagen, and elastin, which results in skin wrinkling and elasticity loss [11]. Smoking causes skin aging and wrinkles because tobacco inhibits production of collagen and increase MMP and elastosis production, which degrades matrix proteins important for skin elasticity [12]. Gender wise, skin of women seems to receive more wrinkles than men due to perhaps the estrogen level in women. Estrogen has been found to increase collagen production and skin thickness so as women age with decrease estrogen production, wrinkles formation are more prominent in women than men [13]. As for dietary intake, increasing vitamin C and linoleic acid consumption is associated with slower aging skin, while increasing fat and carbohydrates consumption causes faster skin aging [14].
UV radiation causes wrinkles and skin damage, which are symptoms of cutaneous aging or photoaging [
15
]. Photoaging is characterized by epidermal hyperplasia or atrophy, thickening of basement membrane and stratum corneum, loss of dermal papillae, unusual keratinocytes and melanocytes, degradation of extracellular matrix molecules such as damage to collagen fibers, excessive deposition of abnormal elastic fibers, and increase of glycosaminoglycans. Photoaging is also characterized by dryness, rough texture, abnormal pigmentation, thickening of epidermis, deep creases, and visible wrinkles [
16
]. UV-B induces matrix metalloproteinases (MMPs), which degrades basement membrane and rearranges the extracellular matrix (ECM), and Type I Collagenase, which digest Type I collagen that is important for supporting the skin, are also causes of wrinkle formation [
17
]. In addition, it has been found that UV radiation can cause cutaneous angiogenesis, the formation of new blood vessels from pre-existing vessels, that can lead to wrinkles formation by inducing the hypoxia inducible factor (HIF-1) and up-regulation of vascular endothelial growth factor (VEGF) [
18
,
19
] (Figure
1
).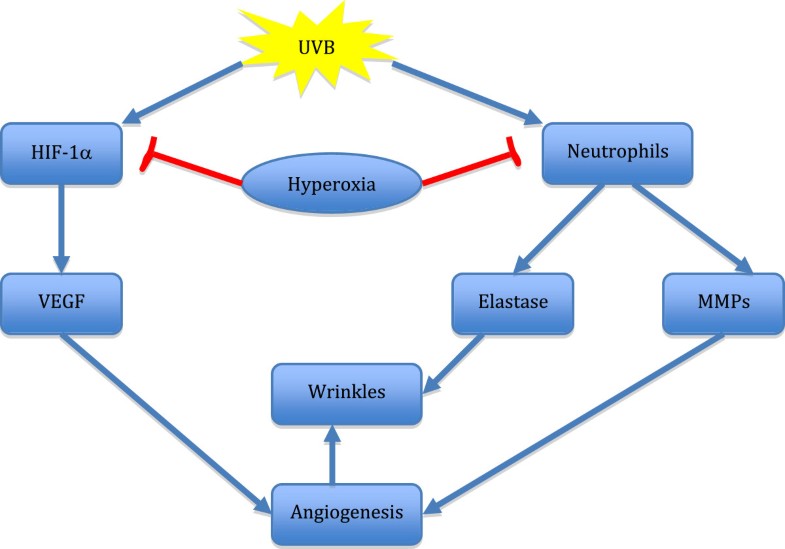 Angiogenesis has been found to be correlated to wrinkling of the skin and can be caused by not only through UV-B radiation but also through hypoxic conditions. There has been researches done and evidences found of hypoxic conditions leading to wrinkling through angiogenesis by affecting and increasing HIF, which regulates the vascular networks [15]. VEGF is a major angiogenesis factor and a target gene of HIF protein [20, 21]. In studies done, the level of VEGF has been shown to be up regulated in areas with necrosis and areas under hypoxic conditions [22–24].
Mechanisms for HBOT skin rejuvenation
Conclusion
The use of HBOT in medicine has come a long way since its first main use to treat decompression sickness. In order for the HBOT to be used to its full potential in skin care, the exact mechanisms of how high oxygen concentration reduce formation of wrinkles and photoaging needs to be investigated. The direct mechanism of how hyperoxic conditions can attenuate formation of wrinkles has not yet been established due to conflicting evidences and a need for further research on the subject. The level of HIF-1α protein has shown to be reduced under hyperoxic conditions, which suggests that it is degraded under high oxygen concentration and this can inhibit the expression of VEGF and skin angiogenesis (Figure 1). However, other evidences were found showing that the suppression of HIF1α-angiogenesis pathway under hyperoxic conditions alone is not sufficient to attenuate production of MMPs, angiogenesis, and skin wrinkle formation. Though studies have found HBOT to slow down angiogenesis, others have found HBOT to be capable of promoting angiogenesis in ulcers and wounds [7, 48]. More supporting evidence and research is also needed for exactly how high oxygen concentration affects TSP-1 activity and the level of MMP-2 and MMP-9. This is because a direct link between TSP-1 and hyperoxia has not been found and it is not clear yet whether the MMP levels decrease in hyperoxic conditions. A wider variety of different testing conditions need to be enforced to figure out the exact mechanisms. Even with these missing links, the use of high oxygen concentration to reduce the visibility of wrinkles have shown to be promising and effective to a certain degree since this treatment is currently being used and is becoming more widespread in spas and dermatology clinics worldwide.
Declarations
Acknowledgement
This study is partially supported by NIH NS043339 to JHZ.
Authors' Affiliations
(1)
Department of Physiology, Loma Linda University School of Medicine, Loma Linda, USA
Copyright
© Asadamongkol and Zhang; licensee BioMed Central Ltd. 2014
This article is published under license to BioMed Central Ltd. This is an Open Access article distributed under the terms of the Creative Commons Attribution License (http://creativecommons.org/licenses/by/2.0), which permits unrestricted use, distribution, and reproduction in any medium, provided the original work is properly credited. The Creative Commons Public Domain Dedication waiver (http://creativecommons.org/publicdomain/zero/1.0/) applies to the data made available in this article, unless otherwise stated.